Archive for the 'Anatomy Of A Murder?' Category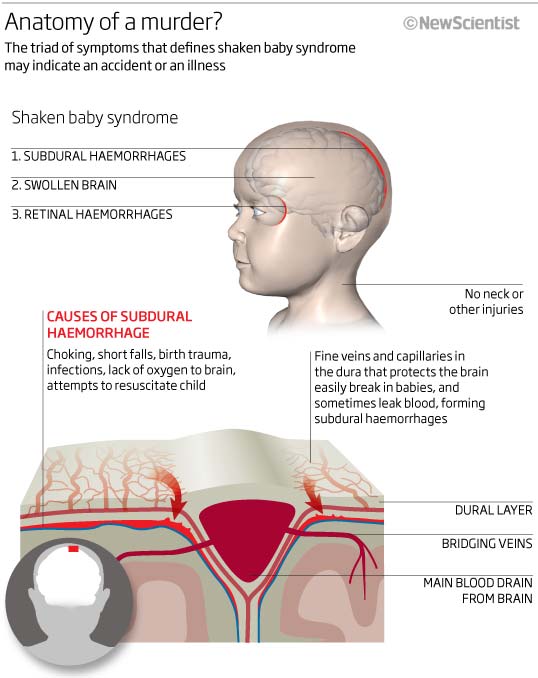 A triad of markers
The three markers for a shaken baby diagnosis are retinal haemorrhages in both eyes; subdural haemorrhages between the fibrous dura layer that protects the brain and the brain surface beneath; and swelling of the brain. Subdural haemorrhages are said to arise from ripping and shearing of so-called bridging veins. New lines of evidence challenge this hypothesis with the discovery that subdural bleeds are much more common in babies than generally appreciated, and for a host of innocent reasons (see "Anatomy of a murder?").
Last year, Cohen and co-researcher Irene Scheimberg of Barts and the London NHS Trust examined post-mortem tissue from fetuses and newborns and found subdural haemorrhages in 16 of the 25 fetuses and 20 of the 30 newborns. They also found haemorrhages within the dural layer itself, suggesting that the bleeding started here (Pediatric and Developmental Pathology, DOI: 10.2350/08/08/0509.1). The research is just the latest of many reports to show that subdural bleeds can occur without shaking (see "Anatomy of a murder?").
No one doubts that frenzied shaking could cause the triad of symptoms, but only after severe accompanying damage to the neck. A baby's head striking a solid surface would also cause such damage but then there would be other evidence of an impact. For these reasons, there is increasing pressure for the triad not be used as evidence of guilt in the absence of any other evidence of child abuse. The American Academy of Pediatrics last year called for the phrase "shaken baby syndrome" to be replaced with "abusive head trauma". In the UK, the Royal College of Pathologists last December cautioned against viewing the triad as "absolute proof of traumatic head injury in the absence of any other corroborative evidence".
No independent witness has ever seen a shaken baby with such symptoms, the only evidence has come from confessions. Of 54 cases globally in which defendants admitted shaking a baby, only 11 had no signs of other injuries (The American Journal of Forensic Medicine and Pathology, DOI: 10.1097/01.paf.0000164228.79784.5a).
In 2001, Plunkett published 18 reports of all or some of the key symptoms in infants who had died after falling 60 centimetres to 3 metres (The American Journal of Forensic Medical Pathology, vol 22, p 1). In the same journal in 2004, (vol 25, p 89) Plunkett described evidence from a family video of a toddler with all the symptoms dying after a short fall.
The original concept of shaken baby syndrome arose not from research on babies but from road safety research published in 1968 on what happened to brains of adult monkeys when cars decelerated rapidly (Journal of the American Medical Association, vol 204, p 285). Since then, biomechanical studies using dummies as surrogates have concluded that shaking alone doesn't cause the classic symptoms. Oxygen shortage has been proposed as a possible cause of brain damage in infants by Jennian Geddes, a retired pathologist formerly of the Royal London Hospital. Although dismissed by the UK Supreme Court in 2005, some concepts behind Geddes's hypotheses have since been followed up.
In the US, momentum is building for a reappraisal of the status and validity of SBS as a way of diagnosing child abuse. There are also moves to reopen cases in which the triad may potentially have led to unsafe convictions.
The US Innocence Project, a nationwide network originating in New York City to identify and investigate potentially unsafe convictions, confirmed last week that they are looking into cases of SBS. "We believe there were a number of false scientific assumptions about these cases," says Barry Scheck, a founder of the Innocence Project.
"I'm involved in conversations around the possibility of creating an 'innocence commission' to look specifically into SBS," says Deborah Tuerkheimer of DePaul University College of Law in Chicago, and author of a recent law review calling for such a commission. She estimates that approximately 1500 Americans are serving sentences for SBS.
Tom Bohan, past president of the American Academy of Forensic Sciences, has been fighting for SBS to be reviewed for more than a decade. "All I've wanted is an impartial examination, as I've come to the conclusion that SBS is bogus," he says.
Shaking won't damage vital brain veins
A central tenet behind the original concept of shaken baby syndrome is that the abuse would sever bridging veins that drain blood from the brain and direct it back to the heart via a channel in the brain.
Research is now showing that the bridging veins of infants are strong and seldom break when subdural haemorrhages occur. Julie Mack of Penn State Hershey Medical Center and her team found networks of hitherto unrecognised fluid channels and capillaries that develop in the protective dura about 30 weeks after birth. This is the time many shaken baby cases come to light (Forensic Science International, DOI: 10.1016/j.forsciint.2009.02.005).
These blood vessels are much more fragile and leaky than bridging veins. They can easily haemorrhage if lack of oxygen raises blood pressure, for example, which can happen if a baby is choking or a blood clot blocks the oxygen supply. In 2008, Veronica Rooks of the Tripler Army Medical Center in Honolulu, Hawaii, showed that in a group of 101 healthy newborn babies, 46 had subdural haemorrhages, presumed to be from the rigours of birth, all of which had disappeared by 3 months. These findings back up the suggestion that some of these fragile vessels can bleed again later in babyhood, perhaps after a fall or a choking episode.
Retinal haemorrhages too are proving to be more common than supposed. Evan Matshes of Southwestern Institute of Forensic Sciences in Dallas, Texas, re-examined 123 child deaths and found retinal haemorrhages are not limited to children who die of head injuries through abuse (Proceedings of the American Academy of Forensic Sciences, vol 16, p 272). Matshes says these injuries may be seen in a variety of situations.
New Scientist